New Album Animal – release in September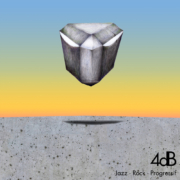 The preparations for the release of our new album Animal are on their way: our graphic art is finalizing the cover, the songs are all recorded, mastered, the pressing of the CD will start soon… And our tour officially begins on Saturday, June 16 for a first concert in La Chapelle des Lombards, in Paris!
Animal definitely sets the foundation of 4dB's progressive jazz rock. This new album is a concept one, where each member of the group brings his own approach to music, with an ambitious but still creative studio production. Constellation of soundscapes, the album takes also a graphic shape, with a singular visual identity, appearing on the CD but especially in a limited vinyl edition that will be released at the end of the year with a special graphic extension.
Learn more about the world of 4dB: interview with Damien Boureau
On June 6, 2018, Damien Boureau was interviewed on the program "guest of the day" on Radio Theme: discover his interview in podcast (french version only):
Discover our new songs
You can already listen to excerpts from our new tracks, immerse yourself in our jazz-rock-progressive-psychedelic universe, before seeing us in concert … And of course before discovering our whole album, in the music stores or on all download platforms, at the beginning of the school year!
Come and see us live!
You can already know our schedule of concerts … Do not hesitate to give us contacts in your neighbourhood: places and festivals which could program us, the network is essential.
Follow our news!
You can follow our news on Facebook or by subscribing to our newsletter (a newsletter per month), to know everything about our next album and our different events!